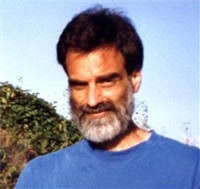 SOLIDARITY & BEYOND
I'm the son of parents who never found their feet
of migrants from where they'd never completely arrived
to another place they never completely arrived
& also the son of their neighbors from everywhere
likewise groping & flailing
among some who would take advantage of them
more solidly established or imagining they were so---
but mainly among those too busy trying to avoid joining them
to lend a hand or meal or hygienic quarters---
so that fighting versus gravity, winter, & pathogens
was what they specialized in
making a career of exerting themselves
without sufficient understanding, resources, or rest
til they died of the constant effort.
I, too, witness the migrants who never arrive
groping & flailing
among some who would take advantage of them
while I'm so busy mainly trying to avoid joining them
or merely living & dying, specializing in the effort
of fighting versus gravity, winter, & pathogens---
& trying to figure out how profitably to insert myself
among others likewise trying profitably to insert themselves
in the midst of those so desperate for immunity
from the mere struggle versus gravity, winter, & pathogens
that they don't believe they can afford the time
to become & be righteous, wise, & kind.
I'm an old man, yet such a son, still
& while I live, I hope to become more effective
in service to those whose need is even greater than mine---
my hope is to become more & more effective so---
I have little time left, but more understanding
tho understanding is never complete, always evolving---
habits of ineffectiveness & effectiveness, likewise---
not merely to express my solidarity with those suffering
nor merely to be esteemed by others
expressing solidarity with those who are suffering---
&, without losing hope, not merely to hope, either
I don't mean to insult those expressing such solidarity---
I'm expressing such solidarity, too!---it's a start---
nothing good begins without a good intention---
but words aren't enough, tho they're part of what's needed---
first, ideas formed, correctly, within oneself
then words for the ideas---no easy matter
while you're a specialist in groping & flailing---
then the words launched somehow into the world
where others can consider them, if they will---
& compelling enough, somehow
that some, eager to speak, not listen
will actually listen, & consider them
& modify their behavior accordingly
if you've managed to make advantageous suggestions
regarding more effective behavior---
however much they're groping & flailing.
Beyond groping & flailing

beyond words, beyond expressing solidarity---
eventually---may you & I while we live reach the point---
we could discuss how actually to transform the situation---
it's happened again & again, enough already, no?---
transform it temporarily here & there, first
also making an impression, more than words
that no one & nothing can annihilate---
& eventually, eventually---actually---forever, everywhere.
If it's not possible, why are we talking?
Are we just trying to impress one another
that our sentiments are correct
& that we're clever with language?
If it is possible
let's get beyond suffering in solidarity
& transform the situation more & more effectively---
always with mercy even for ourselves---
not just exerting ourselves to exhaustion
& dying of futile efforts, as so often happens---
but not contenting ourselves, either
that we've finally managed to put into words
our anguish, indignation, solidarity.
Born, Chicago, USA, 1945. Raised on rough South Side. Janitorial, clerical, factory, warehouse work, teaching jobs from the East Coast to West, years of hitchhiking, often sleeping outside, eating little. 25 years solo consulting assignments: logistics, manufacturing, space exploration, & agriculture operations research out of my northeast Wisconsin home. I study a lot, & try to modify behavior according to what I learn. Album of songs: Solid and Sound (1977). Books: Old Buzzard of No-Man's Land (poems, 1974), How To Change the World Forever For Better (telegraphic philosophy, 1990, second edition, 1994), People I Met Hitchhiking On USA Highways (narrative prose, 2001). About 1,500 posters (silk-screened on scraps of cloth) stapled to utility poles across USA (1985-1995). 100 So-Called Poems (website, 2007 - now).
SOLIDARIDAD Y MÁS ALLÁ
Soy hijo de padres que nunca encontraron su rumbo de migrantes
que nunca llegaron por completo a donde llegaron antes
o ningun lugar llegaron completamente---
y tambien soy el hijo de sus vecinos de todas partes
igualmente tanteando y agitando
entre los que se aprovechaban de ellos
mejor establecidos o creyendo que lo estaban--
principalmente entre aquellos demasiado ocupados
tratando de evitar unirse a ellos
darles una mano o comida o una vivienda higiénica ---
así su desafío para sobrevivir, el invierno y los microbios
¿lucha poderosa ,enorme esfuerzo, sin comprender nada
sin recursos y así hasta morir.

Yo también soy testigo de los migrantes que nunca llegan,
a tientas y agitándoseentre algunos que se aprovecharían de ellos
mientras estoy tan ocupado principalmente tratando de evitar unirme a ellos
o simplemente vivir y morir, especializándome en el esfuerzo
de luchar contra la gravedad, el invierno y los patógenos ---
y tratando de descubrir cómo insertarme rentablemente
entre otros, tratando de insertarse igualmente
en medio de aquellos tan desesperados por la inmunidad
de la mera lucha contra la gravedad, el invierno y los patógenos
que no creen que puedan permitirse el tiempo
llegar a ser y ser justos, sabios y amables.
Soy un hombre viejo, pero sigo siemdo hijo
y mientras vivo tengo la esperanza de ser más efectivo
al servicio a aquellos cuyas necesidade son incluso mayores que ls mías ---
mi esperanza es ser más y más eficaz, así que ---
Me queda poco tiempo, pero más comprensión
no solo para expresar mi solidaridad con los que sufren
sino paea la comprensión que nunca es completa, siempre evoluciona ---
hábitos de ineficacia y efectividad, igualmente ---
expresando solidaridad con los que sufren ---
no simplemente para ser estimado sino
para tampoco perder la esperanza.
No pretendo insultar a quienes son tan solidarios---
¡También lo hago! --- es un comienzo ---
nada bueno comienza sin no hay buena intención ---
pero las palabras no son suficientes,
aunque son parte de lo que se necesita ---
primero, ideas formadas, correctamente, dentro de uno mismo
luego palabras para las ideas --- no es fácil
mientras eres un especialista en andar a tientas ---
entonces las palabras se lanzan de alguna manera al mundo
donde otros pueden considerarlas, si lo desean ---
yson lo suficientemente convincentes.
de alguna manera algunos, ansiosos por hablar, no escuchan.
Si realmente escucharan considerian
modificar su comportamiento, -
por mucho que estén a tientas y agitándose.
Más allá de tocar a tientas y agitarse más allá de las palabras,
más allá de expresar solidaridad ---eventualmente ---
tú y yo mientras vivimos y lleguemos al punto ---
podríamos discutir cómo transformar realmente la situación ---
ha sucedido una y otra vez, ya suficiente, ¿o no? ---
Transformarlo todo temporalmente aquí y allá,
causando impresión, más que palabras que nadie y nada pueden aniquilar ---
y eventualmente, eventualmente --- en realidad ---
para siempre, en todas partes.
Si no es posible, ¿Por qué estamos hablando?
¿Estamos tratando de impresionarnos unos a otros?
que nuestros sentimientos son correctos
y que somos inteligentes con el lenguaje?
Si es posible
vamos más allá del sufrimiento en solidaridad
a transformar la situación más y más efectivamente ---
siempre con misericordia incluso para con nosotros mismos ---
no solo esforzándonos hasta el agotamiento
y morir de esfuerzos inútiles, como suele suceder ---
pero tampoco contentarnos
que finalmente logramos poner en palabras
nuestra angustia, indignación, solidaridad.
Nacido en Chicago, EE. UU., 1945. Criado en el South Side.Autoeducado, recorre losEE UU desde muy niño trabajando en limpieza de oficinas, fábricas, almacén, desde la Costa este hasta el oeste, años de echar dedo en las carreteras a menudo durmiendo al aire libre, comiendo poco. Así y 25 años de transferi sus experiencias t dando consultoría individual en logística, fabricación, exploración espacial y investigación de operaciones agrícolas. Formóun hogar en el noreste de Wisconsin. Estudió mucho e intento modificar el comportamiento de acuerdo con lo que aprendía. Tiene un Álbum de canciones: Solid and Sound (1977). Libros: Viejo zopilote de la tierra de nadie (poemas, 1974), Cómo cambiar el mundo para siempre y para mejor (filosofía telegráfica, 1990, segunda edición, 1994), Gente que conocí haciendo autostop en las autopistas de EE. UU. (Prosa narrativa, 2001). Alrededor de 1.500 carteles (serigrafiados en trozos de tela) grapados a postes de servicios públicos en todo Estados Unidos (1985-1995). Poesía Poemas taL llamados .